XBOX CLOUD DOESN'T SUPPORT MUSIC NOT IN XBOX MARKETPLACE
I can't upload music I purchased from Amazon, iTunes, etc to the Xbox cloud that isn't in the Xbox marketplace. Allen Stone's album "Last To Speak" isn't in the Xbox marketplace so I can't upload it to the cloud and listen to it on all my devices. I can't even copy the album to my iPhone and add via the app.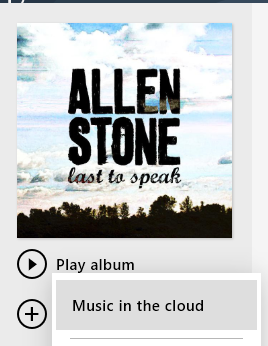 NO OFFLINE MODE
The iPhone app doesn't have an offline mode. That's a blocker for me because I tend to listen to albums over and over again and don't want to pay for the cellular data each time.
I'll reevaluate Xbox music when they add support for those two features, but for now I'm going to stick with Google Music and the Cloud Play app. The Cloud Play app doesn't have an offline dashboard, but it will download songs when you listen to them once. The gMusic iPhone app is just awful. It constantly freezes and gets out of sync. Right now it is telling me the Hugh Laurie performed the Teenage Mutant Ninja Turtles theme song. I've been using Cloud Play for a few hours and so far so good.
Jon