The is a post in a blog series I'm writing called "Microsoftie Perks"
Microsoft gives all Microsofties FREE MSDN, TechNet and Azure Subscriptions. With the free MSDN Subscription comes a free Azure Subscription. You can read more about that on the Azure Special Offers for MSDN Subscribers page. Microsofties also get special pricing on Azure, but I can't blog about the details of that.
MSDN Subscription Benefits – Software, E-Learning, Azure, Support, Special Offers, MSDN Magazine & Chat
MSDN is a great resource for developers. In fact, I used to work for MSDN about 3 years ago. I shipped the e-learning portal, worked on MSDN forums and the MSDN social platform. It was a great time, great team, great people.
Some people have a hard time figuring out the difference between MSDN and TechNet, here's a snippet from MSDN:
"The software provided with MSDN Subscription is for design, development, testing, and demonstration of your programs. The software provided with TechNet subscriptions is for evaluation purposes only." from Comparing MSDN and TechNet Subscriptions
Here are the benefits you get with an MSDN Subscription. You can read the full details on the MSDN Subscription benefits page.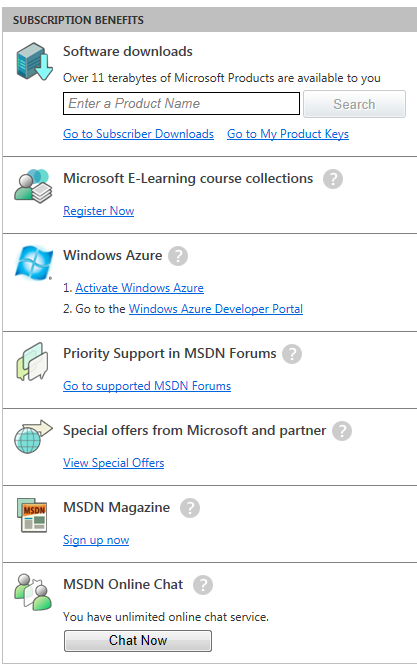 Here's a taste of all the software at your finger tips with the MSDN Subscription. The full list is on the MSDN Subscriber downloads page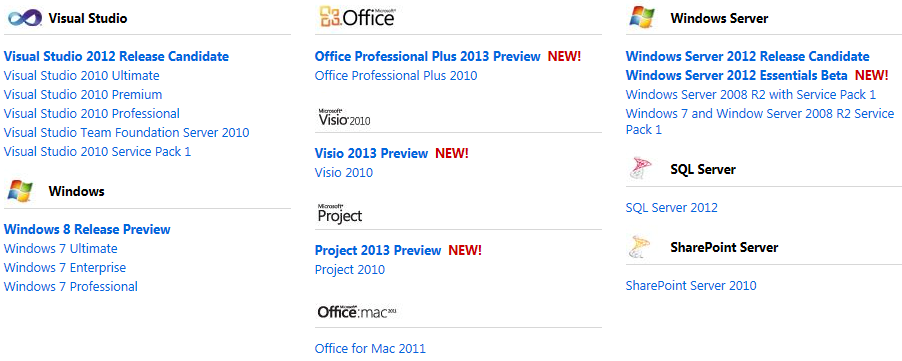 TechNet Subscription Benefits – Evaluation Licenses, Benefits Portal, Support Calls, Support Forums, E-Learning & Chat
Here are the benefits you get with the free TechNet subscription. You can read all the details on the TechNet Subscriber benefits page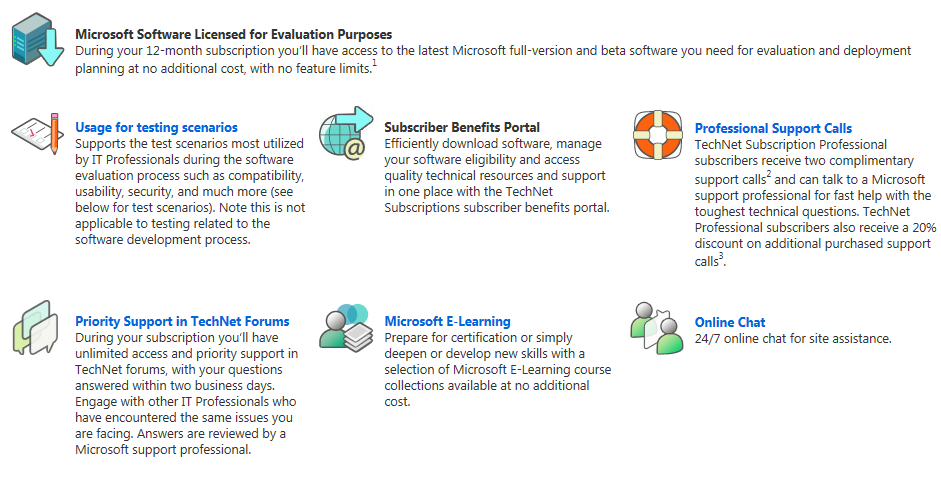 Azure Subscription Benefits – Cloud Services, CDN, Storage, SQL, Caching, etc…
"If you are an existing Visual Studio Professional, Premium or Ultimate with MSDN subscriber, you get free access to Windows Azure each month, and up to $3,700.00 in annual Windows Azure benefits at no charge.

This offer provides a base level of Cloud Services, Storage, Content Delivery Network, SQL Database, Access Control, Service Bus and Caching each month at no charge. Customers can use these Windows Azure subscriptions for commercial use." from MSDN Subscriber Azure Special Offer Page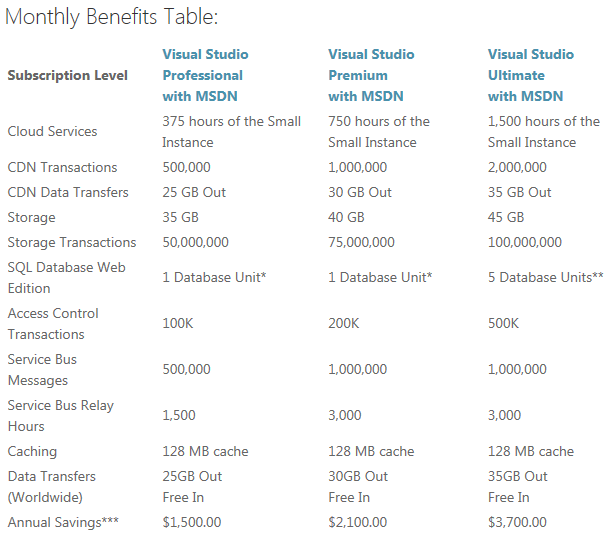 As you can see the free MSDN, TechNet and Azure Subscriptions are an amazing benefit. A perk that makes being a Microsoftie that much better.
Jon