I use Maps to add businesses to my Contacts all the time. That way I don't need to search for them again when I need to get a hold of them. Unfortunately today's release of the new Google Maps App doesn't let me add a business to my phone's Contact list. I can "Save" the contact, but I can't add it to "Contacts" on my phone. Big miss IMO. It looks like I'll have to use Google Maps for day to day mapping, but crack open Apple Maps when I want to add to Contacts.
Apple Maps and the previous version of Google Maps allowed me to add from the business detail page to Contacts.
Here's what that looks like when I view the Microsoft detail page…
[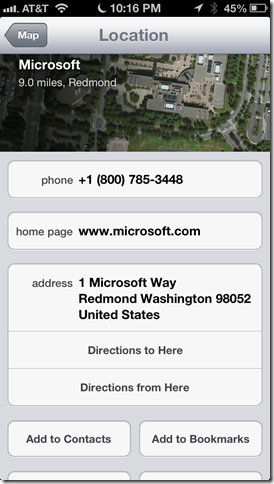 With the new Google Maps on iOS I can only "Save" the Contact. There isn't an option to "Save to Contacts". Saving the contact in Google Maps will add it to the MRU list that appears when you tap on the Search text box.
[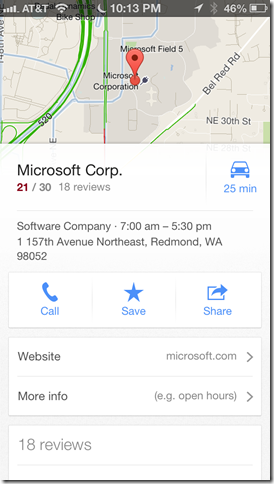 Please Google, add the ability to Save To Contacts!
Jon