I purchased Argo ("HD")from YouTube.com last night. I was expecting at least 720p since it was advertised as HD, but the highest resolution available was 480p. Here's the definition of HD video from Wikipedia:
High-definition video is video of higher resolution than is standard. While there is no specific meaning for high-definition, generally any video image with more than 480 horizontal lines (North America) or 570 lines (Europe) is considered high-definition. 720 scan lines is generally the minimum even though many systems greatly exceed that.
Here's how it played out last night.
I go to Amazon.com and find Argo but they only have it in SD for laptop. You can stream HD to Kindle Fire HD, Xbox 360, PS3, Roku, TiVO or other compatible devices, but I don't have any of them.
I go to YouTube.com and find Argo and they have (what I think is) the HD version for the same price as Amazon.com, $3.99. See the "HD" next to the price below? Wouldn't you think that means 720p or better?

I purchase it from YouTube.com and start to play it. I want to make sure I am getting at least 720p, so I click on settings and see this…480p being the highest resolution available.

I was on WiFi at the time so I thought it might be due to my network connection speed – sometimes streaming services will do what is called "adaptive streaming", which means it will adjust the resolution that is streamed based on the users internet connection. I plug my laptop into the wired network and check my network speed. I'm getting my usual 92mbps. Yes, you can hate me.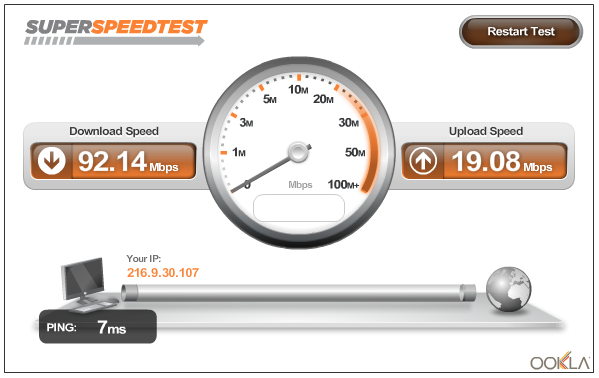 So now I know it's not a problem with my internet connection. I go back to the movie details page and see this: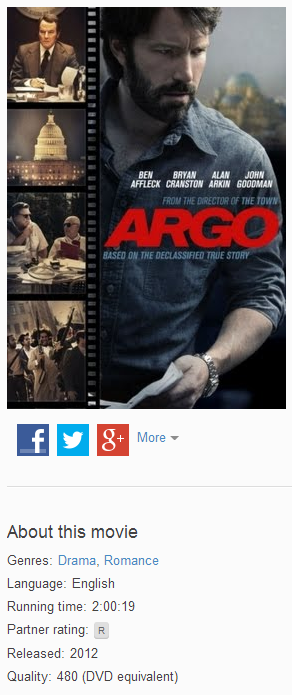 Ah ha! Under the movie title, it states the the movie is "Quality: 480 (DVD equivalent)". So that is the max resolution I can get.
I'm a little peeved, but I want to watch the movie and I figure I can deal with YouTube the next day to get my money back.
3/4/2013: I called YouTube this morning. They don't have phone support, so I will send them the details through online support and see if I can get my money back or a credit.
I'll update this post once I hear back from them.
3/6/2013: I got an email from YouTube. They gave me a credit and are going to report the issue to the content team.
Hi there,
Thanks for reporting this issue, and I'm sorry we've missed an opportunity to give you an enjoyable experience.

Since we haven't met your expectations we've granted you a refund. You should receive a confirmation email from Google Wallet shortly, if you haven't already.
I've also passed your report on to our content review team, who will look into the problem you noticed. If you have any more information to add, please reply to this email.
I apologize for any inconvenience this has caused. Please don't hesitate to let us know if you have trouble again in the future.
Regards,
Anya
The YouTube Team
So, the lesson is…make sure you check the left rail grid of video details page to determine resolution, NOT the header icons. It must be at least 720p for it to be HD.
If you run into this same issue I recommend sending an email to [email protected] to see if you can get a refund.
Jon