Google announced that they are going to be shipping a Google Music iOS app that includes subscription music. I'm a big Spotify fan, but one thing that has always bugged me is that I can't browse "My Artists" by Name and Album. EVERYTHING has to be in a Playlist.
For example, let's say I want to listen to Amos Lee's album Supply and Demand. It's easy with Google Play. Just click on "Albums" and then click on the album.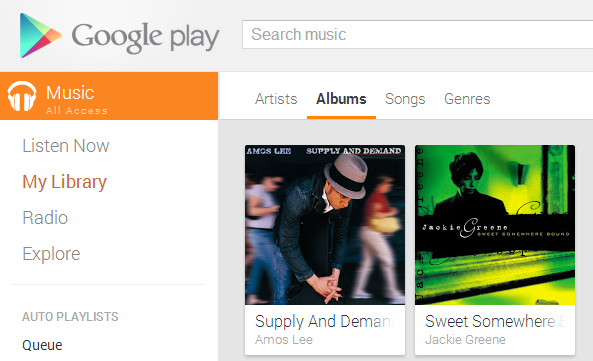 With Spotify I could:
1. Search for it every time. Not practical.
2. Create a playlist for every album I'd ever want to listen to. I'd have hundreds of playlists.
3. Create a playlist for every artist I like and add all their albums to it.
I'm currently doing option 3 right now – but it's a pain. You actually have to start the playlist to get to the song and then navigate to the album.
If Google does indeed release an iOS app then I will definitely make the switch.
Jon