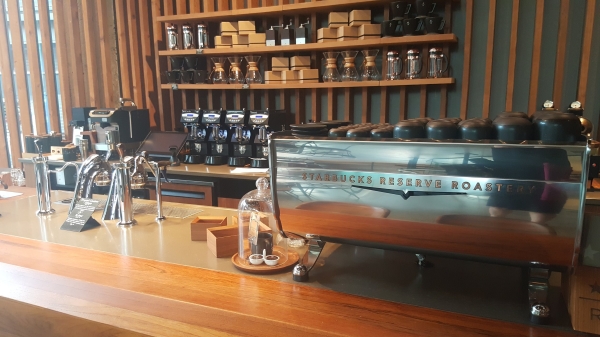 Many of you know that I'm fanatical about high quality coffee. Like many people, I used to think Starbucks was good coffee. That was until I experienced freshly roasted and freshly ground coffee. That was 3 years ago, and since then I went deep into learning everything there is to know about great coffee. With that, I do a lot of tweeting about my experience with my E61 brew group and my office coffee setup. It's a simple pour over, but with high quality coffee (usually Victrola these days) and godly aromas, I often get the attention of my office neighbors who are drawn in by the smells. I believe that coffee is more than a drink, it is an experience. It is something to be savored and lingered on. I enjoy watching the coffee pour out of my bottomless portafilter just as much as drinking the coffee. The perfect color - the perfect tiger striping and perfect volume. I get excited just thinking about it.
I've written about my passion for all things before and coffee keeps bubbling up as the number one thing I could do for the rest of my life.
All this passion got the attention of Howard Schultz - who many of you know is stepping down as CEO of Starbucks to pursue his passion of getting high quality coffee into Starbucks. Through many discussions and trips all over the coffee producing world - Guatemala was amazing - I've decided to accept a position as the Chief Coffee Officer for Howard's new passion.
I'll start by going into an intensive coffee production training program all around South America and then will officially start at Howard's new secret location in Seattle. I hope to see you at the Starbucks Roastery in Seattle.
Here are Starbucks we always want to hear what you have to say about the quality of our coffee. When giving us that feedback, please try to look beyond the mass production we've done over the years and focus on the single-origin, small batch, freshly roasted beans that will be in select locations.
More to come soon!
Jon