When you import an MP3 audiobook it appears in iTunes (and your iPhone) under music because iTunes assumes anything MP3 must be music. Here's how to move it to the Audiobooks section.
When you borrow audiobooks from your library, there are usually two options: MP3 and WMA. I will go for the WMA audiobook if there is an iPod/Apple license because WMA are imported as audiobooks and MP3s are imported as music, but sometimes the only option is MP3.

The reason why I don't like this is because the iPhone doesn't allow you to play music at double speed and puts the files on a different tab so you have to remember where to go to find each book on your phone. I always listen to books at double speed and want all my books under the same tab….so I need to move it.
For this example I downloaded the QBQ! The Question Behind the Question as an MP3 audiobook because that was all that was available. (Great book BTW). I'm going to show you how to get this under the Audiobooks section
[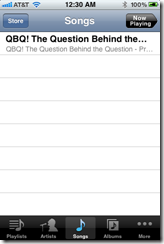 (The audiobook QBQ under the songs section by default)
Because iTunes treats MP3 audiobooks as music it when into the "Songs" tab on my iPhone, but I really want it under my "Audiobooks" tab with all my other audiobooks. You can find that by tapping on "More" and then tapping on "Audiobooks"
[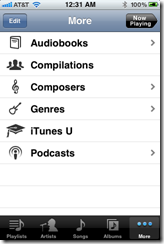 (More –> Audiobooks)
[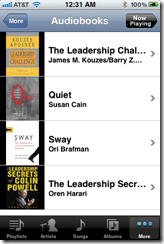 (As you can see QBQ isn't there, it is under the Songs section)
Here's how to move it: See my post how to borrow audiobooks from the library and listen to them on an iPhone if you don't know how to get the audiobook onto your phone
1. Plug your iPhone into your computer. Then, in iTunes, go to Phone—>Music and then right click on the track(s) that you want to move to audiobooks. Select "Get Info"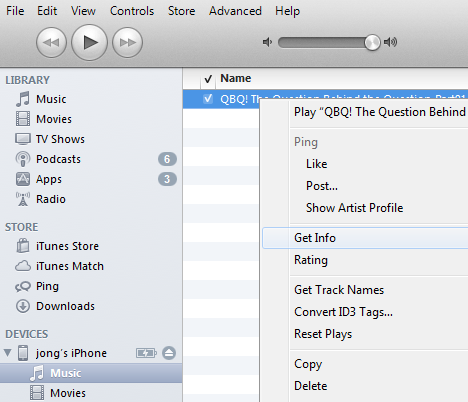 2. Click on the Options tab and under "Media Kind" select "Audiobook" then click OK.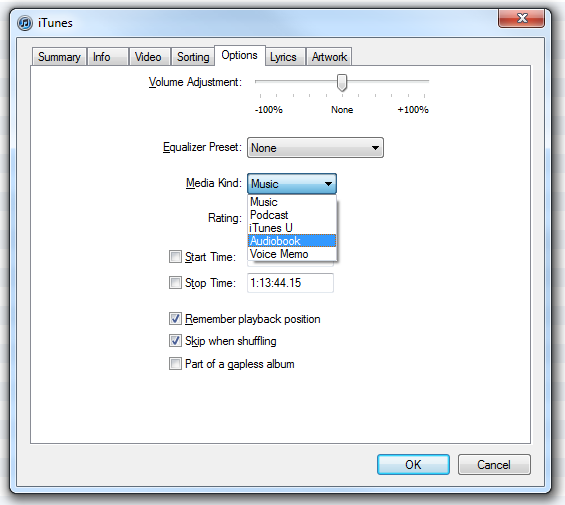 Here's what the dialog looks like when you have multiple files selected: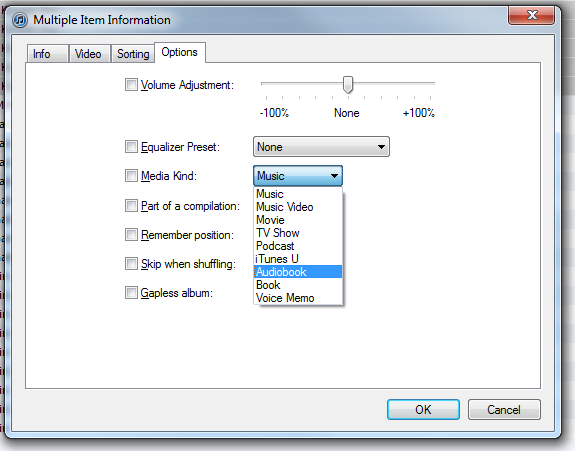 After you click OK, the track(s) will no longer appear in the Music section in iTunes
3. Go to your phone. Open the Music app. Click on More, then Audiobooks. Your book should now appear. If it doesn't then try going back to iTunes and doing a sync.
[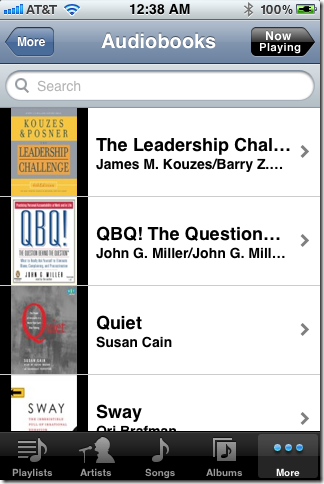 Hope this helps you get things organized
Jon