Victoria, BC is a great place to visit if you like history, museums, gardens, golf and the coast. I've been out a few times, but I usually enjoy the trip out more than the island itself. There are a few ways to get there from Seattle. Not all of them are well known, so I thought I'd do a post to help you narrow down your options.
While in Victoria…
Stay at Parkside Victoria Resort & Spa. It is reasonably priced, full kitchens, only a few blocks from the port, free wifi, rooms are very clean, spacious and the pool and hot tub are very nice. The only downside is that they don't have AC. You can park on the street for free if you get there after 6pm and leave before 10am.

Bring the kids to the Beacon Hill Children's Farm. Great little petting zoo for toddlers.

Get some ice cream at The Soda Shoppe

Walk the harbor at night to see the art and listen to the buskers.

Go to Butchart Gardens…if you like gardens, there's nothing like this one.

Visit the other museums that interest you.
Getting to Victoria
You really have to consider two options for getting to Victoria: 1) Victoria Clipper or 2) State Ferries + Black Ball Ferry Line. With either option I recommend that you make reservations through their website and show up about an hour before departure time. The lines can get very long.
If you want to get there fast, travel light and don't need your own car, then take the Victoria Clipper. No question. It's only a 2 hour crossing. Victoria Clipper is a passenger only vessel, no automobiles allowed. On the other hand, if you want to take your time getting there or want to take your own car then the State Ferries + Black Ball Ferry Line is the way to go.
While you are on your way out there there are few Washington State things that you should try to experience the:
You'll experience all off them very quickly on the Victoria Clipper, but you'll have time to really soak it all in if you take the state ferries.
My Recommendation
I recommend taking Anacortes to Sidney on the way there to get the experience of going through the San Juan Islands and then take the Victoria to Port Angeles ferry, via the Black Ball Ferry Line, on the way back to experience the amazing views of the Olympic Mountains.
While in Port Angeles stop at:
Hurricane Ridge – Drive to the top, bring your own food and have a picnic.

Lake Crescent – Go out on the dock at Lake Crescent Lodge.
Then drive from Port Angeles to Graysmarsh Farm in Sequim to pick your own berries – a very good u-pick farm.
Then drive to the Bainbridge Island ferry dock and take the ferry to Seattle to experience the Seattle Skyline.
The major stops on the route will look like this: Seattle to Anacortes to Sidney to Victoria to Port Angeles to Bainbridge Island to Seattle.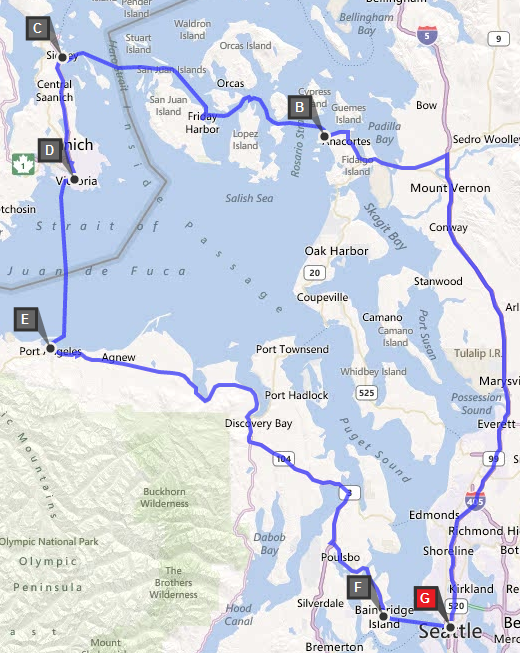 That is the route I would recommend, especially for first timers who have never experienced the trip out to Victoria. It's a great route to experience the Puget Sound, the Olympic Peninsula, the San Juan Islands and Victoria. You can see what you like and revisit places you really liked in the future.
Other Options
There are 4 options for getting to Victoria:
Port Angeles Ferry – Great view of Olympics
Anacortes Ferry – Great view of San Juan Islands
Vancouver Ferry – I haven't been on this one, but is does look like you get a good run through Mayne Island.
Victoria Clipper – Fast, but passengers only, no vehicles.
1. Port Angeles Ferry
This ferry ride gives you an amazing view of the Olympic mountains, but you need to take a ferry from Seattle to the Olympic Peninsula first (all options are below)…or you can drive down around through Tacoma. Washington State Ferries will get you to the Olympic Peninsula and then Black Ball Ferry Line will get you from Port Angeles to Victoria.
a) Seattle to Bainbridge Island – 4hrs 20mins **** RECOMMENDED**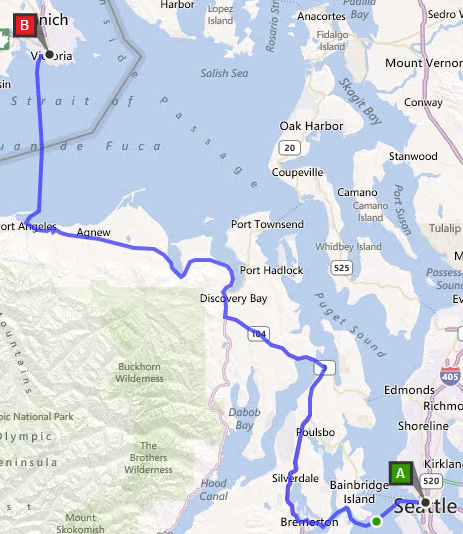 b) Edmonds to Kingston – 4hrs 20mins – Nice, but no Seattle Skyline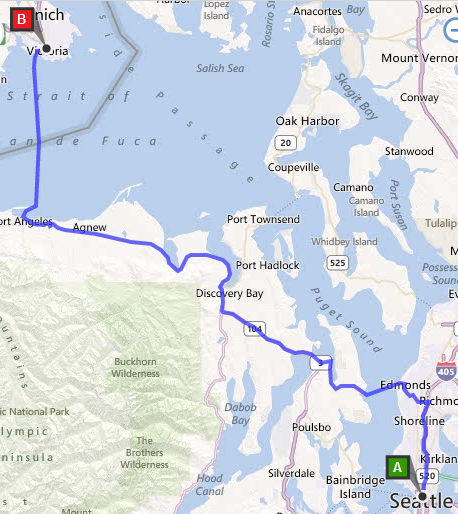 c) Seattle to Mukilteo to Clinton then Coupeville to Port Townsend – 5hrs 18mins – Not sure why you'd want to do this route, but it is an option.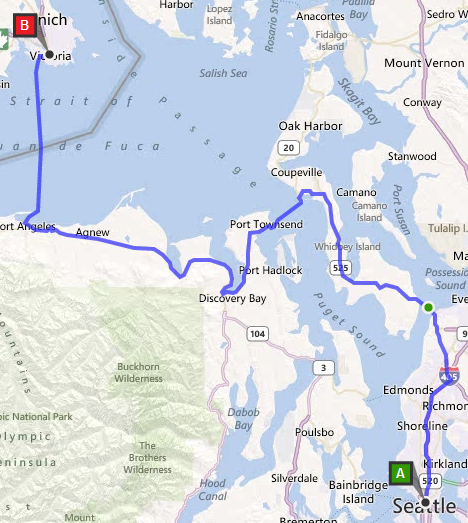 d) Seattle to Bremerton – 5hrs 5mins – Nothing to see down in Bremerton, but it is an option.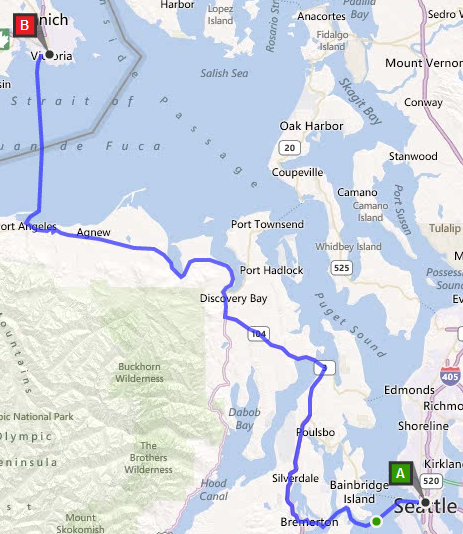 e) Through Tacoma – 4hrs 30mins – If you don't want to take a ferry. It's about the same amount of elapsed time to taking a ferry. I'd rather take a ferry most of the time.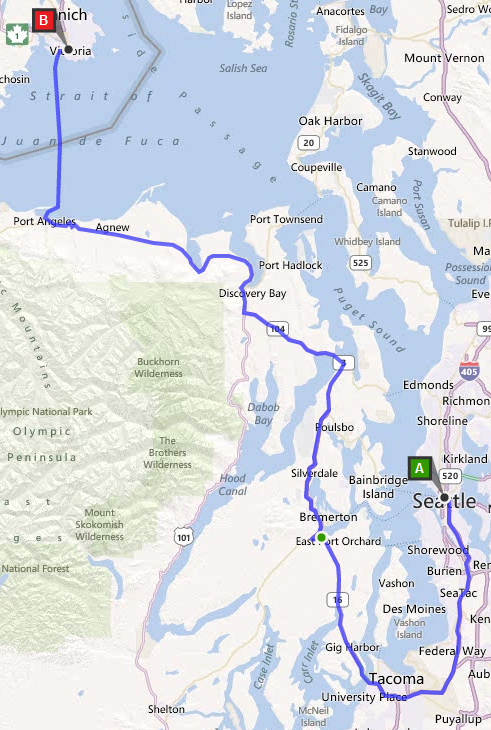 2. Anacortes Ferry
If you have never been on a San Juan ferry then you should take this route. It is a great experience to sail through the islands. One of the routes has a stop in Friday Harbor, but you don't get off the boat. You should try to get the non-stop route to save 30 mins. Take another trip to Friday Harbor someday. Anacortes to Sidney** – 6hrs – ** RECOMMENDED**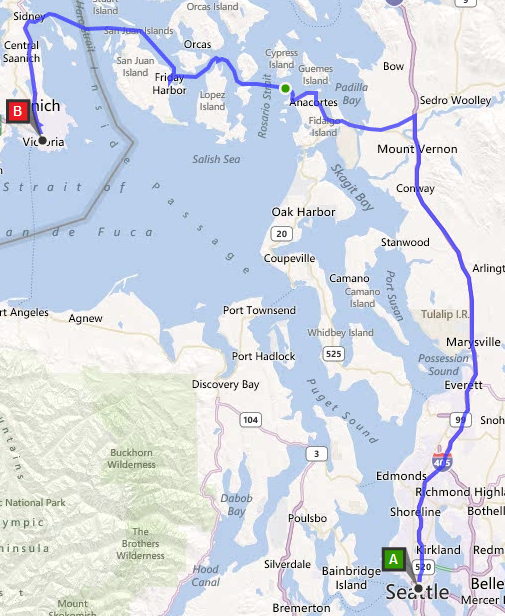 3. Victoria Clipper
The Victoria Clipper is a very appealing option because it is a lot faster than the state ferries, but you can't take your own car. So if you are like me and have small children, this option might be more difficult. We don't travel light so we dreaded the thought of having to carry all our bags from the Victoria Clipper parking lot to the boat. Bags, car seat, stroller, etc…it's a lot to lug around Seattle and Victoria. This is a great option if you can travel light. You can rent a car there if you need one or you could take a bus to any of the attractions you want to go to.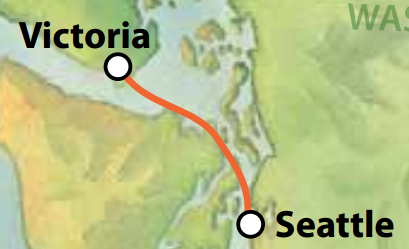 4. Vancouver, BC Ferry
This option is best if you are already headed up to Vancouver or starting your trip from north of Seattle. You can get all the rates and schedules from the BC Ferry site. Through Vancouver – 6.5hrs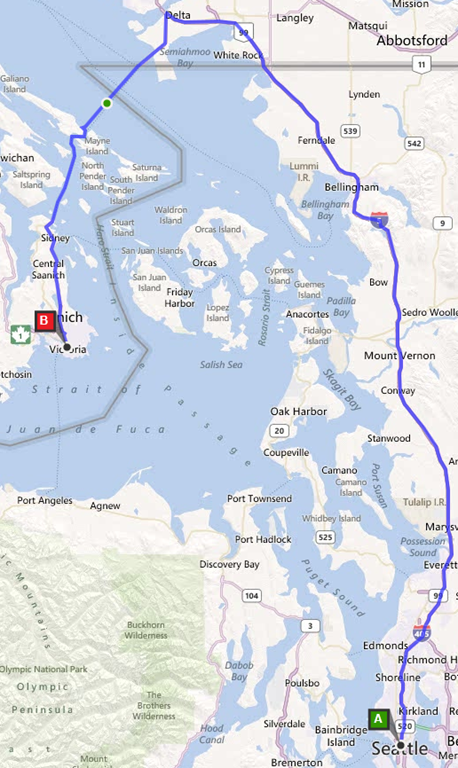 There are all your options for getting from Seattle to Victoria. I really hope this post was helpful and saved you some time researching your options.
Let me know how it turns out.
Jon
Here are some of the important links from this post: