I just committed a big change to the AngularJS CRUD Grid – Lookup Tables!
CODE: https://github.com/jongio/AngularJS-WebApi-EF
Here's what's included:
Lookup tables: You can now specify that a column is a lookup column. The directive will retrieve the data for that lookup table and manage it states
AngularJS 1.2 RC3, Font Awesome
Refactored the way I'm hiding and showing UI elements with ng-switch
Added form-control class to form elements and modified the layout to use container and rows.
Added a clear button to the filter control
Clicking on a row's text puts that row into edit mode. That way you don't have to move mouse all the way over to the left to edit a row. Just click on any of the row's text fields.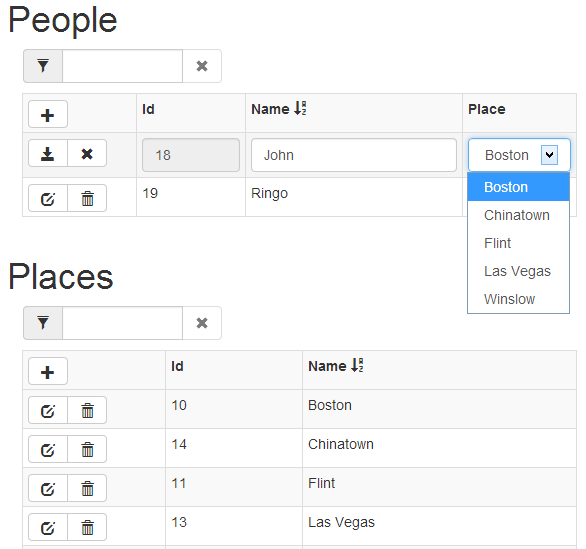 The most interesting thing about this release is the use of $broadcast and $on to push events from one directive to another. That way when I update data in the Place table that is immediately reflected in the Person table's Place dropdown.
I get a reference to the document scope:
var $docScope = angular.element(document).scope();

Then issue a broadcast call after data has been updated. I pass $broadcast the table name so that my other directives don't refresh all lookup tables.
var successCallback = function (e, cb) {
    notificationFactory.success();
    $docScope.$broadcast('lookupDataCh ange', [$attrs.table]);
    $scope.getData(cb);
};

I then listen for the 'lookupDataChange' event and refresh the lookup data:
$scope.$on('lookupDataChange', function (scope,  table) {
    $scope.resetLookupData(table[0]);
});

You define the lookup attributes for the column in the directive element:
lookup
{
    table:'name of the table you want to pull data from',
    key: 'the column that you want to use as your select key',
    value: 'the column that you want to use as the select display text',
    orderBy
    {
        field: 'the field to sort by',
        asc: 'true|false - the direction to sort by'
    }
}

See Index.html for a working example.
I'm happy with the way this turned out. I hope you are too.
Jon