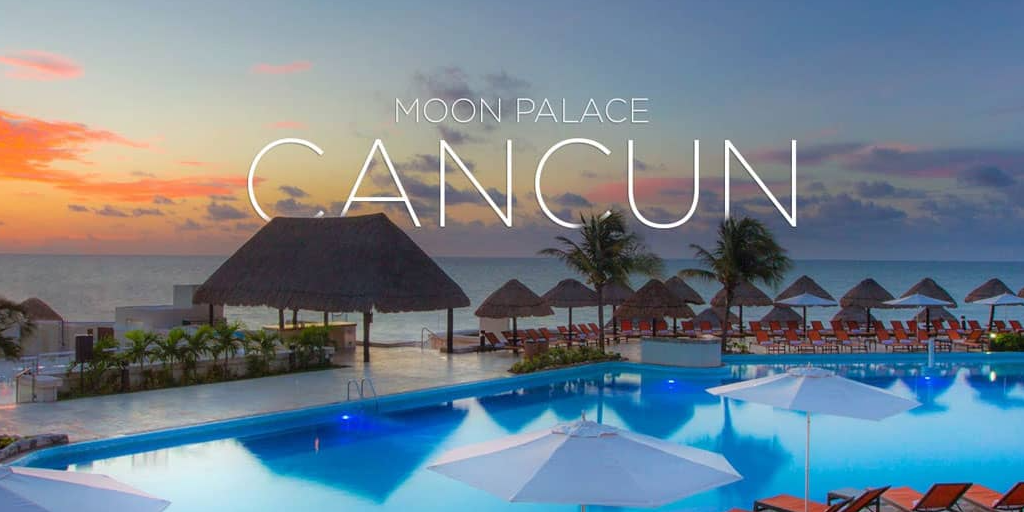 Our family has vacationed at Moon Palace, an all-inclusive resort, in Cancun, Mexico a few times. It's an amazing place with great food, drinks, activities, and people. I highly recommend you consider it for your next vacation.
I'm going to keep this post in a tips and tricks format to help you decide if this is somewhere you want to go without having to read a ton of text.
This "sitemap" is a good page to see all the restaurants, activities, and rooms.
Book Ahead
You'll want to book months ahead of time because they are usually sold out during the weeks that your kids have off from school. We book 4-6 months ahead of time.
Booking and Rates
Palace Resorts has "members" that bought a timeshare like package. I'm not a fan of that and don't recommend it, but if you know a member they can refer you and you save $700+ dollars over what you'll find on Costo or other travel sites.
You can find them on eBay or contact me for who I use.
I know a member that I trust, so reach out if you want to get connected to see if they can offer you better rates.
When you book with a member you get:
"Resort credits" that you can use for the Spa and other activities like tours to cenotes and inlets
2 included 30 minute massages
Transfer to and from airport
Room selection
Try to get a room not near the Waterpark if you want quiet during the day. They play music all day long. The closer to the ocean the better. They have a lot of room options, including ones with swim up pools, but we usually go for the lowest cost option.
Grand vs Nizuc vs Sunrise
Moon has 3 locations. Grand, Nizuc, and Sunrise.
Only stay at Grand. The other locations are older and are like ghost towns. The food isn't as good and since Grand is new, you have to pay $100/day/person to access the restaurants at Grand.
Stay at the Grand. You will thank me later. Pay the extra up-front cost for a much better experience.
Arriving at Airport
When you land you'll have about a 1 hr wait inline at customs. Plan for that time.
When leaving the airport ignore all the people at the door selling trips. Keep head down. Head outside and find someone from Palace resorts. Light tan clothes. They were at the end of the parking structure. If you don't see them, then ask around to folks outside and people will point you in the right direction. Don't talk to anyone inside the airport.
Transfer slip
Make sure you keep your transfer slip - that is your ticket back to the airport.
Arriving at Hotel
Head right to the check-in desk. Ignore the folks trying to sell you on timeshare. Come back later after you have settled. More on "resort credits" later in this post…
Get to your room as quickly as possible and chill for a bit. The vacation planning people / sales people will suck you in for hours if they can. Our strategy is to tell them we only have five minutes.
Palace App
Get the Palace resorts mobile app, there is so much data in there. Hours, menus, activities, access to planners, room service, etc.
Menus
With so many restaurants you are going to want to have a look at the menus. Get the Palace app. It has all the menus.
Food
The food at Moon - Grand, is amazing. Here are some notes for each restaurant.
Best of foods
Best Breakfast is Cusco Buffet - we tried them all, Cusco is the best. Biggest selection, best cooks, best food - amazing eggs cooked perfectly. Grand Buffet in the lobby building was just "ok". Other places don't even come close to what you get with Cusco. If I had known this ahead of time, I would have only gone to Cusco for breakfast.
Best Pizza - Trevola - Pizza is undercooked so ask for crispy. It's not great, but better than the other pizza at the resort. Avoid Pepe's pizza. Cheese wasn't even melted.
Best Sushi - Jade - Really good sushi. We went twice. Try the Sashimi and salmon flambé.
Best Appetizers - Tapa (outside of Grand Buffet). Lots of good interesting flavors.
Best Burgers. None were good. Tried the grill and JC. Best was at Wolfgang Puck in airport on the way home.
Best Mexican Food. Casa Mia for amazing formal mexican food. If I had known how good this is I would have gone multiple times. Easily one of the best meals I've had in my whole life.
Best Tacos - La Cantina. Carnitas and Al Pastor and the flower dessert. Los Tacos wasn't great tacos, but has mangos on a stick.
Best Smoothies - Awe Cafe in the Spa. Really great fresh ingredient smoothies.
Best Coffee - Awe Cafe in the Spa. I'm a coffee nerd. I tried them all. This is absolutely the best coffee in the whole resort.
Best Steak - Casa Mia, get the steak on the menu. JC Steakhouse wasn't great - you can skip it and just go to Casa Mia.
Best Drinks - Margharita at Casa Mia. Mojito at La Cantina.
Best Ice Cream - Boulangerie - In the Grand lobby. All lot of flavors available.
Best Health Food - Awe Cafe in the Spa - good salads, breads, green smooties, etc.
Best Dessert - Casa Mia - Order one of everything. Amazing
Best Churros - Go to the fire show at night. They have fresh churros made in a food stand. Very good!
Best Guac and Chips - Los Tacos - Tacos weren't great here though, but cool next to the pool.
Best Fresh Tortillas - In between Casa Mia and La Cantina there's a lady making fresh tortillas, which they use in the restaurants. Definitely give them a try. So good.
Best Beach Bar - Coco Bar - There's a bar on the beach where they serve drinks out of coconuts. Definitely give it a try.
Foods to avoid…
Worst Restaurant - Smoked Text BBQ at Sunrise - They try hard, but it's not great BBQ.
Worst Buffet - Bugambilias in Sunrise - it was great when we went years ago, but not this time.
Worst Breakfast - Caribenios - Not many options, cooks not as good as Cusco
Grand Journey - We didn't go, but the menu only had beef ribs and it is expensive - this expereince is not included. Even after tax with resort credits it was going to be $120, we didn't think it would be worth it.
French Fries - We tried french fries everywhere - none of them were good. Skip fries all together.
Crepes - Boulangerie has crepes but they were soggy. We didn't like them.
Restaurant Reservations
Some restaurants require reservations and they fill up quickly, so check the app for the restaurant list and make reservations as soon as you get there.
Restaurant Time
Plan on 1-2 hours per meal. You are in Mexico time. Things move slower there. Take your time and enjoy it.
Tips!
They say tips are included in the rate, but bring a bunch of cash to tip and tip everyone that helps you. Even a $1 goes a long way.
Room Service
Unfortunately, room service food quality isn't great. We didn't order room service much, but when we did the quality wasn't great and they forgot items. Skip room service food.
Shows
They have entertainment every night at 9pm. Circus shows, magic shows, sand art, Michael Jackson show, and lots of other great shows. We went everynight and enjoyed it.
Waterpark
Best waterpark for kids is at Grand. So many things to do. Lazy river, rides, games, activities, golfing, my kid wanted to stay there all day.
Waterpark notes
Tube ride for people 5' 3"+ - My kid was 1 inch too short and was super disappointed.
Carpet ride for people 3' 11"+ - Fun for everyone.
Playrooms
There are multiple playrooms where you can drop off your kid off if you want to have a dinner alone. They have a lot of games and arcades that are fun for everyone. The best one is at the Grand Waterpark and there's another in the lobby.
Activities
There are regular activities every hour throughout the hotel. Check the app for daily updates. Beach volleyball, pool poker, mini-golf tournaments, and lots more.
In the basement of the lobby building they have bowling ($58/hr) and billiards (free). You can use resort credits for bowling, which we did a couple of times.
Timeshare Presentation
When you arrive you'll be bombarded with folks that want you to sign up to do a "tour" for 90 minutes to get free future nights, a free trip, or more credits.
You can decide if it is worth 90 minutes of your time to get the reward. But, just know they will sell you hard and it is hard to say no to them. It's not for everyone.
Tours
They offer a lot of tours. We have done:
Mayan Adventures - Guided tour including Snorkeling in a Cenote (underground cave) and Inlet. Zip line into water. Lots of fun.
Xel-Ha Park - Similar to Mayan Adventures, but you don't have a guide. But they do have an outdoor real lazy river that is amazing.
Resort Credits
When you book via a referral you get 1500 resort credits that you can use for activities and tours. The tour options strategically do not include "snorkling" because they will try to sell that tour for the timeshare presentation.
There's a lot of things you can do with the resort credits, like special dinners and tours, etc. Go to a Moon vacation planner for help figuring out what you can do with them. It's not super clear what you get with resort credits and some of the activites require that you pay for transportation to and from, but it's only $5-10 dollars. Just be warned that they get a commission for selling the tours, so you will be pressured for specific things that you may or may not enjoy. Get the info and then read some reviews online, then decide.
Definitely use the credits for massages.
Transportation on Resort
The resort is huge and walking in the sun is tough. They have a constant stream of golf carts running through the property. You only have to a wait a few minutes to catch the next one. Tip the drivers!
Towels
We always found that we didn't have enough towels in the room, so order more right when you get there.
Pillows
You can choose various pillows, like ergo pillows, scented pillows, etc. Check the app for the list.
Covid Test
You need to schedule your Covid test back to the US a few days in advance. You'll select a timeslot, but the lines will be long, so arrive as soon as they open for the afternoon, around 2pm. We waited for 1 hour to get the test and the results.
Learn Basic spanish
You are in Mexico and while most people speak Engish at the resort, it's nice to know the basics. Dulingo a few levels to get the basics down.
Have Fun!
All of the above are meant to make your trip more enjoyable, not stress you out :)
Most importantly, relax, enjoy, eat/drink all you want and have a great time.
Hope this helps you on your trip!
Jon